Podcast – Episode 0002 – Pain vs Suffering
Download Episode Here – right click link and select "Save Link As…"
In this podcast Joel and Antonia discuss pain vs suffering and unpack the difference.
In this podcast on pain vs suffering you'll find:
This podcast will discuss the difference between pain and suffering.
Pain is inevitable and suffering is optional. You can stay with it or continue experiencing it.
The base root of pain is physical warning that there's something damaging. Pleasure is a reward mechanism for doing something that the body believe is healthy
Pain is not always a bad thing. We experience something we assume is bad for our body.
The difference between pain and suffering is the narrative behind it.
When you over attach to your ego, it becomes righteously indignant.
The only thing you can do is to be the absolute version of yourself. You want to spend the majority of your time with people who has the same value as yours. But it's near impossible for you to prevent meeting people who choose to suffer every day.
Being awesome is a great influence to others. When people see your progress and happiness, they will be inspired to make or initiate changes in their lives.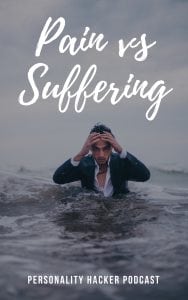 To subscribe to the podcast, please use the links below:
Subscribe with iTunes
Non iTunes Link
Download The Android App
Subscribe on Soundcloud
Subscribe with Stitcher
If you like the podcast and want to help us out in return, please leave an honest rating and review on iTunes by clicking here. It will help the show and its ranking in iTunes immensely! We would be eternally grateful!
Want to learn more?
Discover Your Personal Genius
We want to hear from you. Leave your comments below…