Podcast – Episode 0129 – Cutting Cords Of Attachment
Download Episode Here – right click link and select "Save Link As…"
In this episode, Joel and Antonia talk about cutting cords of attachment using visualizations of cord cutting.
In this podcast you'll find:
Cord cutting is a visualization tool used to ensure that relationships are as healthy as they can be.
Cords have a tendency to attach to our Chakra centers
Cords are energetic ties we have with another person or thing.
We have all had a physical cord at one point in life. Our umbilical cord sustained our life. 
The umbilical cord was necessary to our survival. So cords aren't always negative, and we may even see them as a form of nourishment.
Some cords are positive, and some are toxic.
A positive cord example would be the cord we create in a pair bond relationship. A loving, supportive cord between two partners. Love passes back and forth along this cord. A transparent, flexible cord between heart chakras. Also a cord between sacral chakras connecting partners sexually.
A solar chakra would not necessarily be beneficial for a couple, especially unidirectional. That may indicate the vampiric absorption of one's sovereignty by the other.
Some people are draining to our energies. Energetic vampires.
Cording can be one directional or multi-directional.
One directional cording is rarely a good thing.
Co-dependent cords are not nourishing either. They can cause two people to feed off each other.
If you are in one of these harmful cording relationships, and you sever it the other person will usually know and attempt to reestablish contact in an effort to re-cord.
Cut the Apron Strings 
Many of us can imagine different things in life we feel are keeping us tethered or obligated. Something we can't get free of certain things, like an idea or location that is holding us hostage.
Most of us probably have a lot of cords – good and bad.
To cut cords:
Once you decide there is a cord attached to you, try to imagine what it looks like. There may be a texture, color, size, etc. Is it old and gnarly? Snake-like and scaley? Or long and sticky?

Where is the cord attached? According to Spirit Release, cords usually attached to Chakras. Some Chakra attachments are more common than others; some more dangerous than others.

Choose the weapon of removal:

Imagine a knife cutting it from you,

Visualize throwing the cord into a fire,

Use an imaginary shovel to dig it out,

Imagine yourself physically pulling it from you like a barnacle,

Whatever imagery seems most practical to you.
Use this visualization as a tool you use to shift your mindset.
Cords can reattach if we are not careful. If we are used to the cord, and it is old and gnarly, it may come back, and you will need to cut it again, and maybe again.
Sometimes we get back into old dynamics, and the old muscle memory attaches a familiar cord.
Cord cutting is language that reminds you to go back into that space and helps you to be mindful of how you are attending to your relationships. If you have to go back and cut a cord again, it reminds you of the tendency to get back into toxic relationships, and it keeps you aware of the need for personal autonomy.
With a Chiropractic adjustment, it takes multiple adjustments for the body to realign to its proper position. One cord cutting ritual may do the trick, but it might not. You may have to do it on a regular basis.
We create cords all the time; sometimes with random strangers.
Some personality types are more wired to do this than others. They feel responsible for everyone else's emotions.
Where are you getting attached to people that may not be necessary?
On some level, we are all part of the dynamic that allowed the cords to connect, and it is up to us to remove the cords as quickly as possible.
If you have a tendency to attach to people, visualize yourself dressed in armor, or a cloak. Armor would be a temporary solution. A cloak protects you against cords that you don't give permission to, but it is porous enough to allow healthy cords to develop. Like a gatekeeper.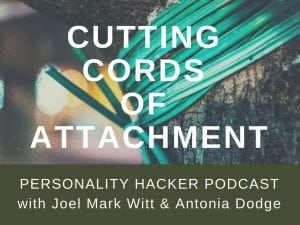 To subscribe to the podcast, please use the links below:
Subscribe with iTunes
Non iTunes Link
Download The Android App
Subscribe on Soundcloud
Subscribe with Stitcher
If you like the podcast and want to help us out in return, please leave an honest rating and review on iTunes by clicking here. It will help the show and its ranking in iTunes immensely! We would be eternally grateful!
Want to learn more?
Discover Your Personal Genius
We want to hear from you. Leave your comments below…