Podcast – Episode 0176 – Self Ownership And Personal Sovereignty
Download Episode Here – right click link and select "Save Link As…"
In this episode Joel and Antonia talk about strategies for owning yourself and not giving away your personal sovereignty.
In this podcast you'll find:
We are socialized to see sovereignty as the opposite of the way it works.

Self-governing

Self-regulating

The Power to make the choice that feels right to you

In a lot of ways, we choose to give up our sovereignty.

It begins in childhood.

Everything is a skill that we build, but sovereignty is inherent.

We can govern ourselves however we want.

If sovereignty is not in our possession, it isn't because someone took it from us.

It was because we gave it away.

We get to decide how we experience reality.

Our perceptions are defining our reality.

Most of our filters are socialized.

We gain more control over those filters and lenses as we grow.

We may feel our sovereignty is laying out in the open, totally vulnerable.

It isn't.

Compromising is different from handing over your sovereignty.

When we choose to do something we are honoring a value of ours.

We may take a hit to honor a value of greater worth to us.

What is the higher value you are observing?

The empowering thought isn't about losing sovereignty; it's about you recognizing that you are valuing something else higher.

Sometimes we think we will lose relationships if we insist on our way.

We avoid ruffling feathers to avoid getting booted from the tribe or losing our job.

This is ancient programming. It doesn't apply anymore.

Our autoresponse is slowing things down.

FJs have a natural response to say YES automatically. Boundaries are hard for them to maintain.

Depending on your personality type, you may need to slow down the process and think before you say YES.

Fi feels like it is losing sovereignty every time it concedes because identity is part of its desires.

It can be a holistic system where you hand over your sovereignty, or it can be a multitude of micro-transactions.

What is a lack of sovereignty vs. a necessary compromise?

Did I choose to compromise?

Or do I feel like I shouldn't have handed over something?

Fi can be too much about sovereignty or not enough.

If you stand up to a situation and you lose that relationship, they are leaving the real you. Do you really want that person in your life?

Fi needs to become unattached to everything being an identity piece.

Your identity isn't static. It is plastic. It changes all the time.

Thinkers have these same elements in their personality.

"My sovereignty wasn't taken, I gave it away."

"I didn't give my sovereignty to another person, I gave it to a value that is inside of me, and I need to figure out where that value lives."

Be aware of how you operate.

Do you have Fe in your stack, so you end up being more service oriented – this shows up for Thinkers in their relationships.

Or do you use Fi and feel like you are taking massive ego hits every time you make a concession?

What is your authentic, true value system?

Behave in alignment with your value system, even if it means taking some hits in the outside world.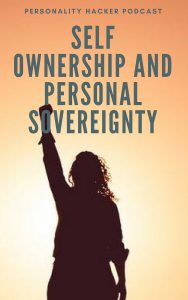 To subscribe to the podcast, please use the links below:
Subscribe with iTunes
Non-iTunes Link
Download The Android App
Subscribe on Soundcloud
Subscribe with Stitcher
Subscribe on Google Play
If you like the podcast and want to help us out in return, please leave an honest rating and review on iTunes by clicking here. It will help the show and its ranking in iTunes immensely! We would be eternally grateful!
Want to learn more?
Discover Your Personal Genius
We want to hear from you. Leave your comments below…