Podcast – Episode 0193 – Enneagram Leadership (Part 2)
Download Episode Here – right click link and select "Save Link As…"
In this episode, Joel and Antonia continue their discussion with Dr. Beatrice Chestnut about Enneagram leadership.
In this podcast you'll find:
The more you understand yourself, default patterns, reactions, focus points and the differences of others, the easier it is to work with others.

Manage yourself and your responses.

Be more flexible and have more empathy for others.

Every combination has ways they may get along well or cause friction.

If you know yourself and you know where they're coming from you can have a better understanding of what is needed to work together better.

We can come in with biases against or for other types.

Enneagram is a constant reminder to stop stereotyping and instead go within.

Be aware of yourself and what you may be bringing into the situation or projecting onto someone else.

Use the Enneagram to ask, "What is it about me that is creating the situation?"

Enneagram 6 may poke holes in ideas too soon due to their tendency to be the devil's advocate.

There is a section in each chapter for what each type can do to be easier to work with.

From the book, Type 6: "Not everyone needs as much time and space to question and plan proposals… It will help 6s to clarify intentions when they push back or question other's work."

Types 8 & 3 tend to gravitate toward leadership roles.

If you come to the table recognizing yours is not the only perspective you can get along with everybody.

If most people have 8s and 3s bosses, is there anything they can do to navigate that space?

The book contains tips to help each of us get along with other types.

From the book, how to get along with 3s: "

Be competent and get things done.

If you don't do your job timely or correctly, be accountable for your mistakes.

3s like to be left alone when working.

Be mindful of 3s preferred pace.

They move really fast. Don't waste their time.

They are sensitive to long meetings or drawn out conversations.

Communicate with them in bullet points.

Relationships will be secondary to work.

Don't expect them to want to deal with your feelings.

Communicate your feelings in a way that is not emotional.

3s avoid failure at all costs. It is their kryptonite.

Recognize their achievements.

Antonia (Enneagram 3): "I've had to recognize that honoring people's emotions and keeping morale high is not my strong suit. I also appreciate it when the team has my back, even when I fail."

Sometimes we can overcorrect.

From the book, how to get along with 8s:

Make sure and tell them the truth.

Be honest.

Don't hide things or undermine their authority.

Don't beat around the bush.

Be brief, direct, and to the point.

Don't waste their time.

They respect independent workers.

Support them in taking action.

Don't slow them down or interrupt them.

Support their forward momentum.

Ask them to pause before they work, which will be of service to them.

Try not to be afraid of conflict with them.

They respect people who aren't afraid to meet them assertively.

Use the 8 in your life as an exercise to develop your conflict muscles.

"Every organization is a shadow of its leader."

Leaders have weighted presence in the company and will develop the company to mirror their preferred communication strategy.

Sometimes that is true – and sometimes it isn't.

Leaders will unconsciously hire someone of their type.

Their blind spots can become blind spots of the organization.

As a leader, ask yourself what your blind spots may be. See them and create a path for growth based upon them.

Underlying principle:

Know thyself.

Understand yourself.

Put out effort to do some personal self-awareness work.

The more you know yourself, the more you will be able to understand your strengths, weaknesses, and projections.

Also modeling self-awareness and self-responsibility for others is huge in a leadership situation.

Own your mistakes.

Apologize, and people will trust you more.

Grab yourself a copy of Beatrice's book – The 9 Types of Leadership: Mastering the Art of People in the 21st Century Workplace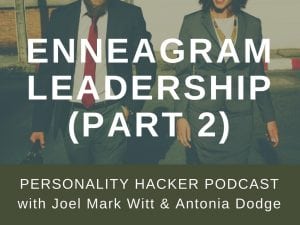 To subscribe to the podcast, please use the links below:
Subscribe with iTunes
Non-iTunes Link
Download The Android App
Subscribe on Soundcloud
Subscribe with Stitcher
Subscribe on Google Play
Subscribe with Facebook Messenger
If you like the podcast and want to help us out in return, please leave an honest rating and review on iTunes by clicking here. It will help the show and its ranking in iTunes immensely! We would be eternally grateful!
Want to learn more?
Discover Your Personal Genius
We want to hear from you. Leave your comments below…