Podcast – Episode 0203 – Can Sensors Speak Intuitive Language
Download Episode Here – right click link and select "Save Link As…"
In previous episodes, we talked about Intuitives being "bilingual" and speaking Sensor language. In this episode, Joel and Antonia talk about whether or not Sensors can also be "bilingual" with Intuitive language.
In this podcast you'll find:
The number one thing people ask the most is, "What is my type?"

They take a test and start exploring their type then they realize they look more like another type.

The more they explore, the more confused they become.

The journey started with the test.

Can Sensors be bilingual with Intuitive conversation?

Intuitive convo = abstract, speculative conversation.

Intuitives can be bilingual because they are surrounded by Sensors most of the time.

Sensor language = concrete, verifiable conversation.

Some Sensors grow up in Intuitive households.

ENFPs are the most homogeneous. ISTJs are the most diverse.

Sensors can be very adaptable.

The trend is that Intuitives are surrounded by Sensors, and so they become bilingual.

That is the trend, not the rule.

The rule is that everything is a little different when played out in reality.

Profiler Training course teaches people how to type other people.

Our best students are often Sensors.

It is not entirely true that Sensors cannot keep up with Intuitive conversation.

They may not have much interest in it, but they can often engage.

Everybody has Intuition in their cognitive function stack.

And everybody has a Sensor function in their stack.

The lower down the stack it goes, the more childlike it is.

A Sensor with an Intuitive process may love fantasy and improv.

The higher up your stack intuition falls, the more comfortable you are with intuitive conversation.

When Intuition is your dominant process, you probably tend to look for careers and ways to manifest this intuition in day to day experience because it is so rewarding.

A person who leads with Intuition has endless amounts of space for Intuitive conversation.

The further down the stack it goes, the less intuitive conversation you enjoy.

That doesn't mean you don't enjoy Intuitive conversation. You just reach the law of diminishing returns.

Intuitives are the same way with small talk.

Once you hit a threshold it becomes a chore. But before that threshold it is pleasant.

It isn't an off/on switch.

Desire vs. threshold.

Thinker/Feeler has thresholds too.

Thinkers aren't all cold and robotic as the stereotypes say.

Feelers aren't all irrational and emotive.

What is emotionally vs. mentally taxing?

Thinkers have a higher threshold for things that are mentally taxing.

Feelers have a higher threshold for things that are emotionally taxing.

Depending on where your Thinking/Feeling preference sits in your stack will determine how much tolerance you have.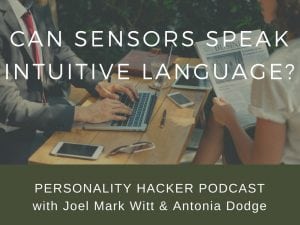 To subscribe to the podcast, please use the links below:
Subscribe with iTunes
Non-iTunes Link
Download The Android App
Subscribe on Soundcloud
Subscribe with Stitcher
Subscribe on Google Play
Subscribe with Facebook Messenger
If you like the podcast and want to help us out in return, please leave an honest rating and review on iTunes by clicking here. It will help the show and its ranking in iTunes immensely! We would be eternally grateful!
Want to learn more?
Discover Your Personal Genius
We want to hear from you. Leave your comments below…