Podcast – Episode 0207 – Power Of Self Care
Download Episode Here – right click link and select "Save Link As…"
 In this episode, Joel and Antonia talk about the power of self-care and attending to your needs.
In this podcast you'll find:
Sometimes we put our needs last.

It looks like society has started asking for the things it wants or needs.

Is that true?

Depression isn't going away. Feeling marginalized isn't going away.

So, more people are asking for their preferences, but the result is staying the same.

Preference doesn't necessarily mean self-care.

We may be entering a perceiver society.

The 1950s was a Judger period.

Individual expression was discouraged.  

Perceivers want to express their individuality and include everyone's perception.

Special snowflake syndrome.

It's neither bad nor good.

The pendulum always swings between extremes.

Asking for what you want vs. asking for what you need.

Culture is evolving that will no longer allow itself to be oppressed.

It isn't resulting in much happiness or fulfillment, though.

Self-care is refined by its results.

Self-care should equal peace, happiness, joy.

Self-care is managing your energy levels well.

When we are burned out, we become fussier.

Self-care is context dependant. It depends on each individual.

What is at the heart of creating obstructions that get in the way of joy, fulfillment, peace?

If you know that doing yoga makes you happy, why is it so hard to maintain a commitment to the thing that makes us happy?

Is yoga making you happy? Or is it the way you feel after doing yoga?

If we want more flexibility in our minds and bodies, and yoga does that it isn't about the yoga that gets our needs met – its the flexibility.

Get better with your definitions and figure out what is going on.

In the case of somebody demanding their needs be honored, what is the actual need?

Is it a need to be seen and validated?

Is it a need to express themselves?

Is it a need to feel that they matter?

The preference isn't the need. It's the strategy for getting the need met.

Doing self-care means you have to start peeling those areas back and become conscious of what the origin of the need is.

Self-care is one of the paths to personal empowerment.

Are we looking for self-care or are we self-indulgent?

It is hard to figure out what our needs are.

"I'm not going to change. I'm an amazing person, and everyone needs to recognize it!"

This may be smoke in mirrors for someone who has low self-esteem.

"I'm a horrible human being" is much more disempowered than "I'm an awesome human being."

It could be overcompensation in that the person refuses to see how broken they feel.

Getting needs met is very personal. What are your actual needs?

If you have never gotten your needs met, you may need to take the suggestions of other people who are good at it until you build awareness around the muscle of it.

Get sensitive to what your individual needs are and then create some specific disciplines that are tailored to your individual experience.

We have to be responsible for our self-care. We can't outsource it.

Don't feel guilty about taking the time you need.

Train yourself to notice when you are burned out and need some time to yourself.

Sometimes we pour into people what we think they need but it isn't what they need.

We are the only ones that truly know what is going on with us on a subterranean level.

Maslow's Hierarchy of Needs gives us a scale for what is going on, and it is specific to each of us.

Get to the core of the need and find the best strategy for implementing it.

You can meet the need of hunger with french fries or a salad. What does your body need?

Some needs are met with the philosophy, "I am an awesome human being who doesn't need to change."

For other needs, that may be the worse thing you can do.

Are your strategies working for you?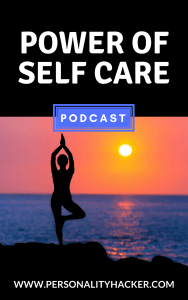 To subscribe to the podcast, please use the links below:
Subscribe with iTunes
Non-iTunes Link
Download The Android App
Subscribe on Soundcloud
Subscribe with Stitcher
Subscribe on Google Play
Subscribe with Facebook Messenger
If you like the podcast and want to help us out in return, please leave an honest rating and review on iTunes by clicking here. It will help the show and its ranking in iTunes immensely! We would be eternally grateful!
Want to learn more?
Discover Your Personal Genius
We want to hear from you. Leave your comments below…