Podcast – Episode 0212 – Writing Your Own Love Story
Download Episode Here – right click link and select "Save Link As…"
In this episode, Joel and Antonia talk about how to take control and write your own love story.
In this podcast you'll find:
Most stories involve a conflict of one sort or another.

Hollywood love stories usually involve conflicted relationships.

Star-crossed lovers.

Romeo and Juliet – external struggles kept them apart.

Pride and Prejudice – internal struggles kept them apart.

Most stories focus on more of a Romeo and Juliet scenario.

Real life relationships rarely mirror a Romeo and Juliet struggle structure.

Our love stories are a fabric of who we are.

They are our models for how love works.

Stories focus more on the falling in love piece rather than the staying in love piece.

Falling in love is easy.

Staying in love is difficult.

Don't get so addicted to falling in love that you ignore the rewards of staying in love.

Pride & Prejudice – a personal growth love story.

More like real life stories: 2 people who are struggling to get over their issues that are keeping them apart.

There's an element of the man in a romance story having to atone for something he did.

Rom-Coms appeal to women because it puts them in a power position.

Falling in love is an essential part of our ego because our survival as a species relies upon procreation.

Next time you see a romance, deconstruct what is going on.

What is the conflict about?

Do both have to grow? Or is it an atonement film?  

Does fantasy set your expectations?

Reality rarely mirrors fantasy.

Look for beauty in the mundane.

If you're going to calibrate, don't calibrate to Hollywood.

Calibrate to beauty, and find that beauty in the everyday.

Love stories can be beautiful.

Find the beauty in your own life.

You have the potential not just to observe life, but to participate and create the epic experience you crave.

What is your love story?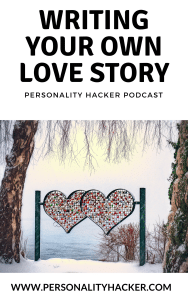 To subscribe to the podcast, please use the links below:
Subscribe with iTunes
Non-iTunes Link
Download The Android App
Subscribe on Soundcloud
Subscribe with Stitcher
Subscribe on Google Play
Subscribe with Facebook Messenger
If you like the podcast and want to help us out in return, please leave an honest rating and review on iTunes by clicking here. It will help the show and its ranking in iTunes immensely! We would be eternally grateful!
Want to learn more?
Discover Your Personal Genius
We want to hear from you. Leave your comments below…