Podcast – Episode 0213 – Becoming Mr or Ms Right
Download Episode Here – right click link and select "Save Link As…"
In this episode, Joel and Antonia talk about shifting focus from looking for Mr or Ms. Right to becoming Mr or Ms. Right.
In this podcast you'll find:
Some people have an idealistic perspective of how love/relationship should look.

They also have an idealized perspective of how developed they are as opposed to those they keep attracting.

Some say that conversation is awkward for some Millennials because they haven't built the skill of interaction without a platform like Tinder or Facebook.

If your goal is to find someone you can love, what can you do to make that happen?

There is a massive shift when you stop looking for Mr./Ms. Right and start focusing on becoming Mr./Ms. Right.

If you feel like you've arrived but you aren't attracting similar people, then ask yourself if you have really arrived.

You will attract people at your level. Get accurate about where you are.

Create a list of all of your 'requirements' in a spouse.

What level of intimacy are you desiring?

Are you matching the requirements you have for others?

When we are younger, we tend to place physical attributes high on the list.

As we age, we start to recognize that the nonphysical becomes essential.

Attraction isn't an option. It just happens to us.

Once we permit ourselves to have a broader spectrum of attraction, we start eliminating the laundry list of requirements.

Do you allow society to influence your requirements for a partner?

Sometimes we attract bad situations into our life.

We get what we put out.

If you are in a troubled relationship, what can you do to become a better person?

Do you actually want a relationship?

Or is your laundry list of requirements a shield against building a relationship?

Relationships can become a mirror to all the work we haven't been doing.

Nothing can tell you you've arrived.

There is growth that can happen within a relationship that cannot occur outside of a relationship.

There is also growth you have to do on your own, outside a relationship.

The work to become better versions of ourselves is always there waiting for us.

"When I stopped looking they showed up."

When you stop focusing so hard on finding that person and start focusing on who you are you become attractive to others.

Become a magnet for the person you want to attract.

If you want to attract an empowered person you need to make sure you are empowered.

If you want to attract someone who is physically fit, you need to match that yourself.

Looking for a love relationship is looking for a peer relationship.

Shift from an outcome frame to a process frame.

Stop focusing on the outcome and focus on the process that is involved in attracting the person that is right for you.

If you are still single and you are working on yourself, that doesn't mean that you still have more work to do.

Sometimes there is the concept of wrong place/wrong time.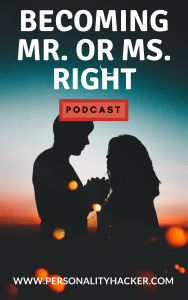 To subscribe to the podcast, please use the links below:
Subscribe with iTunes
Non-iTunes Link
Download The Android App
Subscribe on Soundcloud
Subscribe with Stitcher
Subscribe on Google Play
Subscribe with Facebook Messenger
If you like the podcast and want to help us out in return, please leave an honest rating and review on iTunes by clicking here. It will help the show and its ranking in iTunes immensely! We would be eternally grateful!
Want to learn more?
Discover Your Personal Genius
We want to hear from you. Leave your comments below…