Podcast – Episode 0214 – Ways To Measure A Healthy Relationship
Download Episode Here – right click link and select "Save Link As…"
In this episode, Joel and Antonia talk about better ways to measure a healthy relationship.
In this podcast you'll find:
How do you define a healthy relationship?

Is it the same as your partner?

Exercise: create your own list of what you look for as markers of a healthy relationship.

Compare with your partner.

Passion/romance/desire between the two parties.

A person speaks highly about mate, but they don't brag about them.

Bragging – using spouse's accomplishments as a trophy.

Are the people in the relationship encouraging each other to grow?

Even when their growth is threatening to you or the relationship?

Neither sees the other as the problem.

If there are challenges, there is no blame.

Each person owns their contribution to issues, but not taking all the blame.

Drama Triangle: Someone is always the victim, and someone else is always the villain.

Nothing can grow in a Drama Triangle.

Each person gets to be their fully authentic self.

Partners regularly look for reminders of being in each other's presence.

They are always seeking out the location of their partner.

They miss their partner when they are apart.

ESTJ trained self to get excited whenever they saw their partner.

When you touch your spouse, it isn't about giving touch but also taking touch.

Healthy relationships have conflict.

The couple is a team even when they're fighting.

The relationship itself is a third entity.

It is more than just the two of you, and it deserves to be protected.

The grass isn't greener anywhere else.

"The grass isn't greener on the other side; it's greener on my side because I nurture it."

No pining for what could have been.

These things don't happen to us; we grow to make them happen.

What can you do to make this relationship grow?

What is it you aren't willing to do within this relationship that makes you desire another?

Maybe the patch of grass where you are needs some tending.

Maybe your relationship is complete.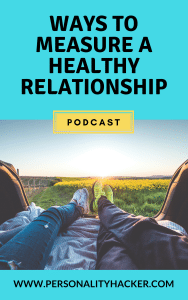 To subscribe to the podcast, please use the links below:
Subscribe with iTunes
Non-iTunes Link
Download The Android App
Subscribe on Soundcloud
Subscribe with Stitcher
Subscribe on Google Play
Subscribe with Facebook Messenger
If you like the podcast and want to help us out in return, please leave an honest rating and review on iTunes by clicking here. It will help the show and its ranking in iTunes immensely! We would be eternally grateful!
Want to learn more?
Discover Your Personal Genius
We want to hear from you. Leave your comments below…