Podcast – Episode 0235 – Goddesses In Everywoman — The Alchemical Goddess Archetype
Download Episode Here – right click link and select "Save Link As…"
In this episode, Joel and Antonia continue a short series talking about the goddess archetypes that show up for some people. This episode details the alchemical goddess in everywoman.
In this podcast you'll find:
Animas and Anima – Feminine and Masculine Archetypes

Alchemical Goddess

Aphrodite – goddess of love and beauty

She does what she wants to do

Self-directed. Independent.

Sensual Goddess

She has qualities of both of the other Goddess categories without the downsides – that's why she is called the Alchemical Goddess

She's a lover of laughter

Daughter of Zeus  

Birth of Venus – rising from the sea

Two different etymologies

Unlike the vulnerable goddesses who didn't get a choice in their companions, Aphrodite had options.

She chose Hephaestus – the rejected son of Hera.

She had a lot of affairs, but her partnership with Hephaestus is thought to have brought about the birth of art

She also had a lot of affairs with mortals.

She could be quite harsh with mortals if they didn't give the worship she thought she deserved or compared her beauty to others.

She could also push mortals further than they thought they could go and thereby became a catalyst for growth.

As an archetype, she shows up when we fall in love.

Some women who are Aphrodite archetypes fall in love frequently.

Aphrodite women can also be quite charming themselves.

Enneagram sexual subtype is very Aphrodite-like

The challenge with this archetype is she has not always been welcome as a feminine example – slut shaming or cultures that inhibit the free expression of sexuality

She is the part of us that awakens during orgasm

Trans-personal organism – both partners find fulfillment

It can also be the consummation of 2 inspired ideas

To give and to take – alchemical – awakened and giving

Creative work is passionate, ignited, intense, inspired.

Jim Carrey: "I feel sorry for anybody in a relationship with me when I am making love to one of my ideas."

Firefly Inara character was an Aphrodite/Hestia character

Oprah has a lot of Aphrodite character. She inspires us to fall in love with ourselves and others. She also has some Athena aspects

Love has its dark side

Aphrodite removes the concept of guilt and judgment from people for enjoying themselves.

She is open. She doesn't care what people do

She comes from a place of abundance

Love is abundant

Aphrodite gives people a charming quality that attracts others

Developing Aphrodite for other archetypes will mean greater openness and charisma

For an Aphrodite woman to stay in a long-term committed relationship, she will need to develop some Hera aspects

Demeter to nurture children

Inconsistent reward creates addiction in children.

So Aphrodites have to watch for the tendency to give inconsistent attention to their children

Aphrodite energy is extremely threatening to most people. Especially in certain religious circles.

Scarlet Letter by Nathaniel Hawthorne

Scarlet "A": stood for Adulteress but it may as well have stood for Aphrodite

Cleopatra

Aphrodite can be threatening to Hera archetypes

Aphrodite tends to be very in the moment, so she needs to recognize the consequences to her actions.

Develop some longevity in her thinking

Other people don't get over things as quickly as an Aphrodite type

Psyche's four tasks are excellent ways for all women to develop:

Sorting seeds: when a woman must make a crucial decision she must sort out a jumble of conflicting emotions and info. A woman must look honestly within and sift through what is truly important and what is insignificant.

Acquiring golden fleece: represents the power which a woman needs to acquire without being destroyed. She does better by observing, waiting, and gradually obtaining power indirectly. Gain strength and retain compassion.

Filling the crystal flax from the circular flow of lifestream: it is essential for Aphrodite women to get some emotional distance from her relationships and see overall patterns and details.

Aphrodite is the least common archetype that women are allowed to express

Her power can be intimidating

Learning to say no: Virgin Goddess women don't struggle with the concept of saying no in the face of hardship. The vulnerable Goddesses struggle with saying no. Hera and Aphrodite are somewhere in-between. Until a woman can learn to say no to her particular susceptibility she cannot determine her life course.

All of us are wired or nurtured into specific styles of thinking

None are better or worse than any others

Try developing the good aspects of your prominent archetype while you balance it out with other archetype aspects

Clare from House of Cards is Aphrodite and Hera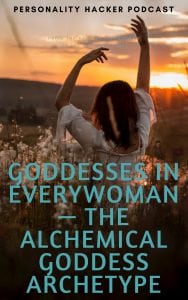 To subscribe to the podcast, please use the links below:
Subscribe with iTunes
Non-iTunes Link
Download The Android App
Subscribe on Soundcloud
Subscribe with Stitcher
Subscribe on Google Play
Subscribe with Facebook Messenger
If you like the podcast and want to help us out in return, please leave an honest rating and review on iTunes by clicking here. It will help the show and its ranking in iTunes immensely! We would be eternally grateful!
Want to learn more?
Discover Your Personal Genius
We want to hear from you. Leave your comments below…