Podcast – Episode 0296 – How Perceivers Struggle With Schedules
Download Episode Here – right click link and select "Save Link As…"
In this episode, Joel and Antonia talk about the struggles Perceivers have with schedules.
In this podcast you'll find:
Scrum Board

Schedule vs. rhythm

Judgers create the schedule first then the rhythm comes from the schedule

But for perceivers, we suspect the rhythm comes first, and the schedule evolves around it

Perceivers can get unrealistic about how much they can get done at any given time, so they struggle with sticking to a schedule.

They will abandon schedules because they never seem to work.

When you have an extraverted Judging function higher up in your stack, it is easier for you to keep track of what is happening over a long period of time.

EPs fixation is unfettered freedom, so schedules can feel like life has no color.

They may unconsciously sabotage a schedule to maintain their freedom.

Judgers put a schedule to paper, and it becomes their motivation.

To check it off the to-do list.

Perceivers hate To-Do lists.

Schedules facilitate you to do the things you want to do.

All of us have stuff we don't want to do, but it's the best way to get something done.

Perceivers – Make peace with your schedule.

Schedules don't have to hurt.

Find what works for you and craft your schedule around it.

Schedules are a platform for opportunity.

When you are trying to figure something out, you aren't sure which rules you can break.

So, Perceivers may often look more militant about maintaining schedules than Judgers because they don't know how to adapt if something goes wrong with their schedule.

Perceivers can tend to forget what they accomplish, too.

Celebrate the things you accomplish.

Create anchor events for yourself that are non-negotiable then fit the other things around the anchor events. 

Anchor events may not happen until you find your rhythm.

Perceivers – Make peace with the schedule and go with the rhythms of your life.

Go to bed at a decent time, so you have more energy to accomplish things.

Drink plenty of water

Exercise

Eat nutritious food

Put your shoes on every day

Judgers need to make sure they don't have too much energy sapping things in their schedule

When they were designing Disneyland, there was a patch of grass people kept cutting through, so Disney told them to pave it and create a path.

Judgers create this Stay off the Grass situation and force themselves into a schedule that isn't energy efficient.

Judgers – make sure you aren't wasting time and effort by shoe-horning yourself into a schedule that is too arduous.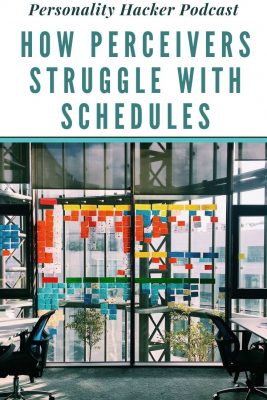 To subscribe to the podcast, please use the links below:
Subscribe with iTunes
Non-iTunes Link
Soundcloud
Stitcher
Google Play
Spotify
Radio Public
PlayerFM
Listen Notes
If you like the podcast and want to help us out in return, please leave an honest rating and review on iTunes by clicking here. It will help the show and its ranking in iTunes immensely! We would be eternally grateful!
Want to learn more?
Discover Your Personal Genius
We want to hear from you. Leave your comments below…