Podcast – Episode 0385 – Combining Enneagram And Myers-Briggs® (with Dr. Beatrice Chestnut)
Download Episode Here – right click link and select "Save Link As…"
In this episode, Joel and Antonia chat with enneagram expert Dr. Beatrice Chestnut about her experience with Myers-Briggs® at the Personality Hacker Profiler Training live event.
In this podcast you'll find:
Guest host Dr. Beatrice Chestnut

joins.

Beatrice's experiences as an Enneagram expert diving deeper into Myers-Briggs® at our Profiler Training  

live event.

How does Beatrice initially think the two systems may correspond?

The complexities of matching up the two systems – and why this isn't simply a 1-1 correlation.

What was it like for Beatrice to be profiled live on stage?

The additional insight Beatrice gained through understanding her Myers-Briggs® type at a deeper level.

What are some more challenges of merging the two systems?

How do some of the enneagram types initially seem to match up with the cognitive function descriptions?

The correspondences Joel and Antonia have found between their Myers-Briggs® and Enneagram types. 

Why is it possible that the two systems match up more closely in their "prescription" than in their "description"?

How the instinctual variations of the Enneagram types bring additional nuance.

Diving deeper into how the systems align – plus how the functions lower in our stack could align with our Enneagram type.

A note on finding growth paths – the power of discovering your type in both systems.

Find Dr. Beatrice Chestnut at https://cpenneagram.com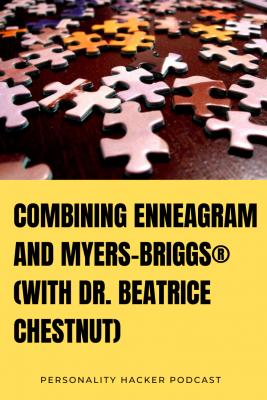 To subscribe to the podcast, please use the links below:
Subscribe with iTunes
Non-iTunes Link
Soundcloud
Stitcher
Google Play
Spotify
Radio Public
PlayerFM
Listen Notes
If you like the podcast and want to help us out in return, please leave an honest rating and review on iTunes by clicking here. It will help the show and its ranking in iTunes immensely! We would be eternally grateful!
Want to learn more?
Discover Your Personal Genius
We want to hear from you. Leave your comments below…