Podcast – Episode 0391 – The Four Thieves Of Productivity
Download Episode Here – right click link and select "Save Link As…"
In this episode, Joel and Antonia talk through the four main productivity killers and how to overcome them in your life.
In this podcast you'll find:
What are "the four thieves of productivity?" Antonia explains the "four thieves" post she discovered on Twitter from @fatehshernu – and how we can apply this as a personal growth tool.

What does productivity mean in today's western culture – and what stops us from being productive?

Making a distinction between productivity and achievement.

Thief no.1  – Poor brain chemistry:

Thinking about brain chemistry as our interpretation of reality

Examining your relationship with your habits in a healthy way

The role of mindfulness practices

Thief no.2 – Environments that don't support your goals:

Joel shares a workplace analogy to illustrate the importance of environment

Different personality types have different environmental needs

Joel and Antonia give us a personal example about changing their environment to improve productivity

Thief no.3 – Tortured relationships:

The importance of setting boundaries with the people in your life

The role inner work plays in adjusting the dynamics of your relationships

Thief no.4 – Not saying no:

Why saying "yes" to something is actually saying "no" to something else

How do you begin to build inner trust?

Looking at our relationships and boundaries as a reflection of ourselves.

How doing growth work initially feels like the antithesis of productivity.

Why small positive changes matter too.

"Live your life as if you're going on vacation tomorrow" – how goals and aims help you to be more productive.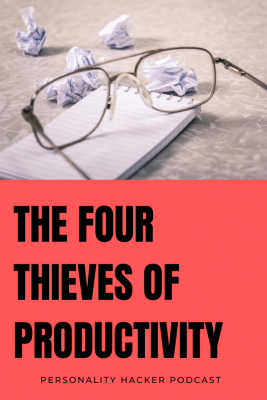 To subscribe to the podcast, please use the links below:
Subscribe with iTunes
Non-iTunes Link
Soundcloud
Stitcher
Google Play
Spotify
Radio Public
PlayerFM
Listen Notes
If you like the podcast and want to help us out in return, please leave an honest rating and review on iTunes by clicking here. It will help the show and its ranking in iTunes immensely! We would be eternally grateful!
Want to learn more?
Discover Your Personal Genius
We want to hear from you. Leave your comments below…