ESFP Personality Type Interview (with Inès Kissany) | Podcast 0417
Download Episode Here – right click link and select "Save Link As…"
In this episode, Joel and Antonia talk with Profiler Training alumni and type professional, Inès Kissany about her lived experience during this ESFP personality type interview.
————————————————-

Click Here to Download the ESFP Handy Guide
————————————————-
In this podcast you'll find:
Guest Host Ines Kissany, ESFP, joins.

Download our

ESFP Personality Type Handy Guide

to learn about the ESFP functions.

Ines gives us a flavor of her upbringing and how this gave her a unique perspective when it comes to understanding type.

How did Ines discover personality type?

What type did Ines initially test as, and how did she come to land on ESFP as her best-fit type?

How Sensation (Se) is a misunderstood cognitive function.

What does Ines love about being an ESFP?

Ines shares her journey and experience of getting more into her Copilot of Authenticity (Fi).

What makes it difficult to get into Fi as an ESFP?

What is Ines' relationship with her 3-Yr-Old function of Perspectives (Ni)?

Ines shares a hack she learned to access her Ni in a more healthy way.

Are there any types Ines envies?

How does Ines use her 10-Yr-Old of Extraverted Thinking (Te) in her daily life?

What would Ines like us to know about her type?

Some final thoughts from Ines on finding your true best-fit type.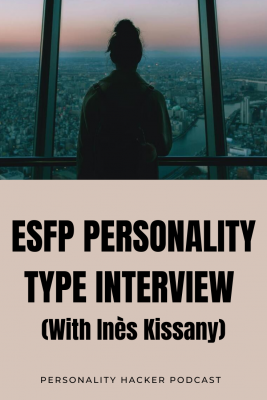 To subscribe to the podcast, please use the links below:
Subscribe with iTunes
Non-iTunes Link
Soundcloud
Stitcher
Google Play
Spotify
Radio Public
PlayerFM
Listen Notes
If you like the podcast and want to help us out in return, please leave an honest rating and review on iTunes by clicking here. It will help the show and its ranking in iTunes immensely! We would be eternally grateful!
Want to learn more?
Discover Your Personal Genius
We want to hear from you. Leave your comments below…