[VIDEO] Enneagram Type 1 Explained
Enneagram Type 1 Explained
Enneagram Type 1 is sometimes called "The Reformer" or "The Perfectionist."
This is a body-based type in the Anger Triad.
Each of the three types in the anger or body-based triad is going to be structured or shaped by their relationship to anger in some way.
Enneagram 1 Types are rational, idealistic, and automatically seeking how things can be made more perfect. They measure whatever they see against an ideal or a standard of perfection… something they think is a "higher good."
Ennegram 1's tend to be principled, ethical, self-controlled and perfectionistic. Not all type one's are perfectionistic, but they tend to be very focused on making things better.
Basic Strategy of Type 1
The basic strategy of Enneagram Type 1 is to be good, virtuous, have integrity, and do the right thing.  They are very hardworking, meticulous, detailed oriented, responsible, moral and have a very sincere desire to make things better.
Enneagram 1 Types avoid being or doing the wrong thing, making mistakes, or getting criticized.
Key Challenges of The Type
Enneagram Type 1 challenges include relaxing the need to be right and relaxing the need to work so hard to make things perfect.
It's important for Type 1 to realize that things are essentially imperfect in the human world and that they need to make room for fun, lightheartedness, relaxation,  and having a good time.
---
Grow Deeper With The Enneagram 1 Starter Kit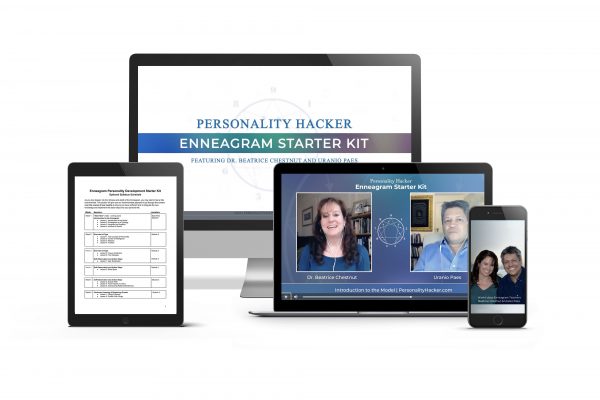 What Is In The Starter Kit?
Introduction To Enneagram
— Meet Your Teachers: Dr. Beatrice Chestnut & Uranio Paes
— How To Navigate And Use This Enneagram 1 Personality Starter Kit
— Resource: Your Enneagram 1 Personality Starter Kit Growth Companion Guide
Module 1: Introduction To Enneagram
— Lesson 1: Introduction to the Model
— Lesson 2: Enneagram as a Typology
— Lesson 3: Integrate the Shadows
— Lesson 4: Avenue of Growth
Module 2: Overview of Enneagram Type 1
— Lesson 1: The Concept of Personality – Overview of Enneagram Type 1
— Lesson 2: Center of Intelligence – Center of Intelligence for Enneagram Type 1
— Lesson 3: Passion – The Passion and Virtue for Enneagram Type 1
— Lesson 4: Fixation- The Fixation & Holy Idea for Enneagram Type 1
— Lesson 5: Focus of Attention
— Lesson 6: The Subtypes (Subtypes explained – Subtypes for Enneagram Type 1)
Module 3: Self-Observation & Action Steps
— Lesson 1: Key Tendencies
— Lesson 2: Blind Spots
— Lesson 3: Growth Path
— Lesson 4: From Passion to Virtue
— Lesson 5: Overcoming Patterns/Tendencies
Module 4: Continued Learning & Deepening Growth
— Lesson 1: Wings & Arrows
— Lesson 2: Growth With Wings
— Lesson 3: Growth With Arrows
— Lesson 4: Subtype Growth
— Lesson 5: Vision Casting Module 5: Toolbox & Bonuses
— 1 Hour Q&A Session Around Type