[VIDEO] Enneagram Type 4 Explained
Enneagram Type 4 Explained
Enneagram Type 4 is sometimes called "The Individualist," "The Artist," or "The Romantic."
This is a emotion-based type in The Heart Triad.
This type is focused more on emotion and relationships.
Each of the three types in the heart-based triad is going to be structured or shaped by their relationship to emotions in some way.
Enneagram Type 4 is a sensitive creative type, someone who values authenticity, someone who is really in their emotions and is emotionally intuitive. This is a person who is, probably more than any other enneagram type, very connected to their emotions.
In a positive way they have a lot of comfort with emotions, they have a lot of empathy for people who are in deep emotions, they can experience a wide range of emotions, but they can also be experienced by others as moody or too emotional or dramatic or intense in some ways.
Basic Strategy of Type 4
The basic strategy of the Enneagram Type 4 is to express themselves authentically to create connection and understanding. Both self-expression and understanding are very important elements of life to a four.
Enneagram 4 Types are very attuned to connection and disconnection with others, and it's a really big thing for them to be understood by people.
They avoid being misunderstood or abandoned in some way due to something that they might lack, and abandonment is a really big issue for them.
These are people you want to go to when you're having a problem or when you need to just talk about how you're feeling and have someone be really there for you.
Enneagram Type Four is unlike a lot of other types feel like feelings are important and good and not to be avoided. That what's important is that you're authentically expressing your feelings and that you're being honest about how you feel, and so they don't regard certain feelings as bad or uncomfortable as many other types do.
Key Challenges of The Type
One of the key challenges Enneagram 4 Types is to capitalizing on their gift of emotional intuition and empathy, while at the same time maintaining equanimity. It's the balance of feelings being important but not over identify with those feelings. Enneagram 4 Types can get carried away with the up and down of emotional expression. Types 4's can learn to be okay with what's in the here and now.
Sometimes Enneagram 4 Types can focus a lot on what's missing and it can be important for fours to really see what's working well in the present moment.
---
Grow Deeper With The Enneagram 4 Starter Kit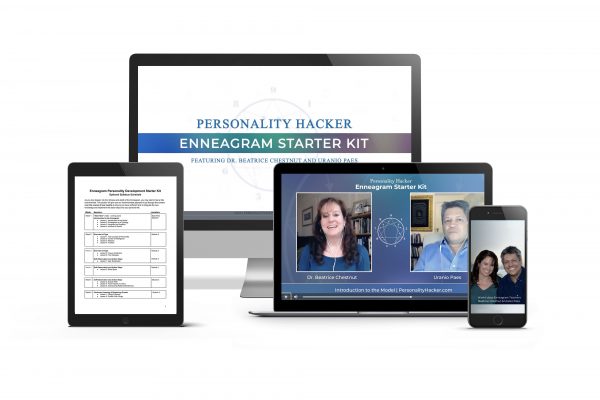 What Is In The Starter Kit?
Introduction To Enneagram
— Meet Your Teachers: Dr. Beatrice Chestnut & Uranio Paes
— How To Navigate And Use This Enneagram 4 Personality Starter Kit
— Resource: Your Enneagram 4 Personality Starter Kit Growth Companion Guide
Module 1: Introduction To Enneagram
— Lesson 1: Introduction to the Model
— Lesson 2: Enneagram as a Typology
— Lesson 3: Integrate the Shadows
— Lesson 4: Avenue of Growth
Module 2: Overview of Enneagram Type 4
— Lesson 1: The Concept of Personality – Overview of Enneagram Type 4
— Lesson 2: Center of Intelligence – Center of Intelligence for Enneagram Type 4
— Lesson 3: Passion – The Passion and Virtue for Enneagram Type 4
— Lesson 4: Fixation- The Fixation & Holy Idea for Enneagram Type 4
— Lesson 5: Focus of Attention
— Lesson 6: The Subtypes (Subtypes explained – Subtypes for Enneagram Type 4)
Module 3: Self-Observation & Action Steps
— Lesson 1: Key Tendencies
— Lesson 2: Blind Spots
— Lesson 3: Growth Path
— Lesson 4: From Passion to Virtue
— Lesson 5: Overcoming Patterns/Tendencies
Module 4: Continued Learning & Deepening Growth
— Lesson 1: Wings & Arrows
— Lesson 2: Growth With Wings
— Lesson 3: Growth With Arrows
— Lesson 4: Subtype Growth
— Lesson 5: Vision Casting Module 5: Toolbox & Bonuses
— 1 Hour Q&A Session Around Type