Podcast – Episode 0123 – Self Awareness vs Self Development
Download Episode Here – right click link and select "Save Link As…"
In this episode Joel and Antonia talk about self awareness and how it can be confused for actual self development.
In this podcast you'll find:
The generation we were raised in impacts us and our personality.
Millennials seem to have more self-awareness at a younger age compared to Gen Xers or Baby Boomers.
Millennials have a sense of self-awareness which comes earlier but they don't necessarily have the maturity to go along with it. So there's a tendency for some millennials to mitigate or excuse a bad behavior just because they're aware of it.
There are people who (mostly Gen Xers and Boomers) did not gain self-awareness until the internet age happened.
Baby Boomers might have gone to some awareness but their purpose was different.
What is self-awareness and what does it mean to be self-aware?

Self-awareness allows you to understand other people, how they identify you, your attitude and your responses to them in the moment.
It's an expanding world-view. It's about being able to see the bigger picture in our daily lives. This is when we start to take into account more and more perspective based on what's happening around us.

Millennials are born into a world where events and news are publicized real-time (example – social med and 24/7 news) this gives them the feeling of being super aware of their world.
Self-awareness plays a huge part in self-development. We want to be self-aware on our behaviors because you want to understand the impact you have in the world and influence the people you know in a positive way.
Self-awareness does not equal self-development. It's a stage or a phase and not a destination or an end game.
If you haven't actually integrated it, then you have self-awareness without the commensurate amount of maturity that goes along with it.
Social Justice Warrior. Someone who feels like they are aware of the major problems in the world. They find solutions to the problem and help spread awareness of the problem to other people.
In your personal development journey, it's not about ending the behaviors, it's about managing the behaviors when they show up so you can be your best self.
Knowledge is not equally proportional to Integration. Just because you understand and teach a concept, doesn't mean that you've integrated it.
Growth is a very challenging process. It's not only about understanding concepts and keys.
One of the things that development tools do to us is they help speed-up the overall process of self-development.
Just learning personal development tools and how they work doesn't equate having done the work. The work means creating a relationship with your ego that acknowledges that you're going to show-up bad sometimes, not your best self, and being able to hold space and manage your ego.
The idea of being self-aware and giving yourself an excuse for behaving badly doesn't show compassion to other people.
There's no expectation that people who are young are supposed to be mature because they have self-awareness.
Just because you have complete mastery of a concept and understand it well enough to even explain it to another person, doesn't mean that you've done the work to fully embody it.
Just because you're aware of your bad behavior, doesn't mean that's enough to mitigate it.
Awareness is mature when it's aware of its limitations. When you realize that you didn't know the whole situation fully, we come to realize that there's always more to know.
Wisdom is the ability to understand not only where your shortcomings are but also recognizing the impact it has on other people.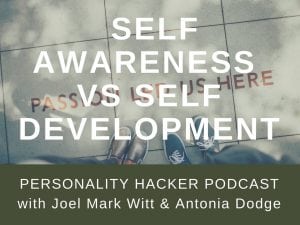 To subscribe to the podcast, please use the links below:
Subscribe with iTunes
Non iTunes Link
Download The Android App
Subscribe on Soundcloud
Subscribe with Stitcher
If you like the podcast and want to help us out in return, please leave an honest rating and review on iTunes by clicking here. It will help the show and its ranking in iTunes immensely! We would be eternally grateful!
Want to learn more?
Discover Your Personal Genius
We want to hear from you. Leave your comments below…