Podcast – Episode 0182 – Feels Like The First Time
Download Episode Here – right click link and select "Save Link As…"
In this episode Joel and Antonia talk about that feeling you get when you first discover or refine your personality type or a truth about yourself.
In this podcast you'll find:
Defiant Ones documentary on HBO

A Renewed sense of discovering something new about ourselves for the first time.

PH is going into a new phase.

It's been a lifestyle business for a long time, but we realized we were hitting a cap.

We've hired new people and have been experiencing growing pains as we adjust the way we've been operating as a business.

Traction by

At the top of each business, there needs to be a visionary followed by an Integrator.

The Integrator is managerial. The buffer between the Visionary and the rest of the company.

Defiant Ones made it clear where Antonia's role fit in PH as a company.

She's the Calibrator.

She's fallen back in love with PH now that she knows where her talent lies and she has permission to use it.

She was holding off on her talent because she didn't want to be perceived as the fussy artist.

Richard Branson's cousin Nick always had his finger on the pulse of the type of things they wouldn't do and what would sell well versus what wouldn't sell well.

Vision is how you're going to bring that purpose to others.

You can spend a lifetime diving into just your type – Enneagram and MBTI.

No matter how long you've been doing personal growth, you still get excited over new Aha moments.

Michael Gerber's E-Myth

Entrepreneur = Visionary

Technician = Calibrator

Manager = Integrator

Manifest the best version of yourself by giving yourself the permission to do what you are best at.

Nobody has transcended their ego so much that they still don't find themselves resisting what is at the core of them.

We can get so intoxicated with diagnostics that they are all we want to do.

A lot of people take every personality test over and over again because they love the experience of the diagnostic.

That can be fun, but the highest value of the test is to learn enough to move to prescription.

Develop a relationship with your personality.  

What we do here is more of an art than a science. We cast visions then calibrate to the vision.

We have to calibrate our thought processes and the way we live our lives to make our visions a reality.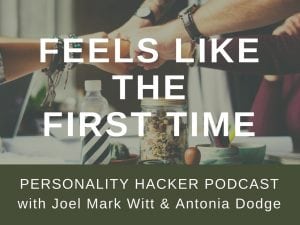 To subscribe to the podcast, please use the links below:
Subscribe with iTunes
Non-iTunes Link
Download The Android App
Subscribe on Soundcloud
Subscribe with Stitcher
Subscribe on Google Play
Subscribe with Facebook Messenger
If you like the podcast and want to help us out in return, please leave an honest rating and review on iTunes by clicking here. It will help the show and its ranking in iTunes immensely! We would be eternally grateful!
Want to learn more?
Discover Your Personal Genius
We want to hear from you. Leave your comments below…