Podcast – Episode 0194 – Finding Your Myers Briggs Type: Judging Functions
Download Episode Here – right click link and select "Save Link As…"
In this episode Joel and Antonia talk about using the judging functions in your cognitive function stack to determine your personality type.
In this podcast you'll find:
Some people have a difficult time finding their best fit type

There are so many different factors that can go into how you type in Enneagram or MBTI

There is power in these systems.  

Judging process = Decision-Making processes

Cognitive Function Stack = The order of mental processes you use in your life

Antonia's (ENTP) primary decision-making function is Introverted Thinking

It's about logical consistencies and managing massive amounts of info

Joel's (ENFP) primary decision-making function is Introverted Feeling

While he is out about he tends to turn to his tertiary process of Extraverted Thinking, so he takes action on info that Antonia shares.

Whereas Antonia doesn't believe all info is actionable.

Four judging processes:

Extraverted Feeling (Fe) – "Harmony"

Introverted Feeling (Fi) – "Authenticity"

Introverted Thinking (Ti) – "Accuracy"

Extraverted Thinking (Te) – "Effectiveness"

We don't just use one of these. They represent a polarity, and we will often pull on both to a greater or lesser degree.

If your decision-making function is extraverted, then that makes info/emotion actionable.

All info is actionable with Extraverted Thinking.

If you are using an introverted judging process, it doesn't have to be actionable. It is just one more piece of the picture.

If you are trying to figure out what Thinking function you use:

Do you believe that all info is actionable? Extraverted Thinking (Te)

Or is it just one more data point you need to know to make a later decision? Introverted Thinking (Ti)

People who use Te don't share info as readily as people who use Ti.

If all info is actionable, Te is going to pick and choose the info they share.

Te users may withhold info to avoid people acting on it.

People who use Ti are very free with info & data.

The only time they may withhold info is if they think the other person can't handle it.

Do you overshare info?

Or are you careful with how you dispense info?

People who use Introverted Feeling (Fi) may not want their emotions acted upon, whereas someone who uses Extraverted Feeling (Fe) may jump into action when someone shares an emotion with them.

Just like with Ti, Fi wants to share all the nuances of their emotions to add fidelity.

Whereas with Fe, like Te, all emotions are actionable.

Fe users see the world filled with unmet needs they need to fulfill.

Listening to someone may not feel like action, but it is.

Fe users may be reticent to share their emotional experiences because they don't want to burden someone else with their emotions.

Fi won't share their emotions with someone if they don't trust that person to be responsible with their emotions.

Fi is always looking for opportunities to be self-expressive (i.e. through distinct art or dress)

Fi: Self-expression = Identity

Ti needs to get the info out somehow and will often share their data online

Te/Fe may hold back but Ti/Fi feel a need to get the info out – as it strikes them individually.

Te wants to get something specific done.

Fe wants to connect with people and get their needs met

Introverted Thinking vs Introverted Feeling

The easiest way to see the difference between these two is by remembering that Fi is more concerned with how they're feeling and how other people are feeling.

Whereas Ti is more concerned with how they're thinking and other people are thinking.

Ti & Fi both create virtues around these processes

Our thoughts bleed into our emotions and vice versa

Fi considers intent very important.

It doesn't matter what the action is, but what the person may have intended.

What is the reason for their behavior? Good or bad?

Fi polarity opposite is Extraverted Thinking (Te) which is about taking action in the outside world.

Ti doesn't look at intent as much as Fi. It understands that everyone has a mixed bag of intent.

Nobody is all good, and nobody is all bad.

To Ti, it matters how someone comes by their thought processes. Are they careful with their data?

Behavior comes from thoughts

To Ti, the most refined thought is priority.

To Fi, the most refined intent is the priority.

Fi is so in touch with the complexity of humanity it knows there is bad intent everywhere and it honors anyone who fights that tendency.

Fi cuts slack to anyone trying to do good because it realizes how easy it is to do bad.

Ti knows that everyone shows up as an idiot now and then. But are you trying to clean up your data and learn?

Te is very proactive in how it wants to set up sustainable systems in the outside world.

Fe is responsive to people's needs.

People who use Te have Fi as a polar opposite, and they can be very empathetic.

This is why Te can be mistaken for Fe.

Everyone has the capacity for empathy.

If Te planned a party, they may leave assuming their systems were good enough to keep the party rolling.

If Fe plans a party, they will stay to make sure everyone is having a good time.

They continually keep their finger on the pulse of the situation and stay responsive to people's needs.

How much do you believe that it is your job to stick around and make sure the system is working?

Te sets up systems then they leave. They are only interested in when the system needs maintenance.

Te wants to get rid of people who impact the system negatively.

Fe thinks it is more important to preserve the person unless they are messing it up for everyone else.

Imagine a garden. Te plants the garden and sets up the irrigation. Fe tends and nurtures the plants.

Fe has a higher tolerance for chaos than Te.

Te desire is 'one and done.'

Fe knows that isn't possible because Humans are constantly causing chaos.

At what level does chaos become overwhelming to you?

Introverted judging processes are about how something occurs as opposed to what.

Extraverted judging processes are more aware of what is going on in the outside world.

Fe/Te believe all thoughts are actionable.

Fi/Ti are interested in greater fidelity before action.

Do you feel you have to immediately act on something?

Or do you prefer to wait for more info?

This podcast is not intended as a way to diagnose your type but to be a tie breaker if you keep typing as a couple of different types.

Become familiar with the cognitive functions then use this info to determine your preference.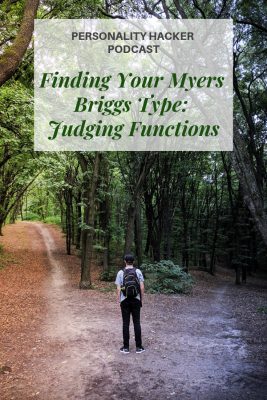 To subscribe to the podcast, please use the links below:
Subscribe with iTunes
Non-iTunes Link
Download The Android App
Subscribe on Soundcloud
Subscribe with Stitcher
Subscribe on Google Play
Subscribe with Facebook Messenger
If you like the podcast and want to help us out in return, please leave an honest rating and review on iTunes by clicking here. It will help the show and its ranking in iTunes immensely! We would be eternally grateful!
Want to learn more?
Discover Your Personal Genius
We want to hear from you. Leave your comments below…