Podcast – Episode 0408 – Neuroscience – Genetics – and Personality Types (with Dr. Denise Cook)
Download Episode Here – right click link and select "Save Link As…"
In this episode, Joel and Antonia talk with neuroscientist Dr. Denise Cook about mapping personality types with DNA, biology, and genetics. After listening to the podcast, you can find Dr Denise Cook's work here.
——————
In this podcast you'll find:
Guest Host Dr. Denise Cook joins.

Is there a link between DNA and cognitive functions? Denise introduces her work.

Why does Denise believe there is a connection between neuroscience and Jung's work?

How did Denise discover MBTI® and Jung's work when these topics aren't highly regarded within the sciences?

Why the premise of genetics originally disregarded typology systems.

Where are the gaps within the subject of neuroscience that MBTI® and the work on Jung can fill?

The philosophical challenges typology brings as a relatively deterministic system.

Why Denise views Myers-Briggs as a system that honors uniqueness.

Exploring the interaction between cognitive functions and emotions through a neuroscience lens.

Denise explains her take on Jung's theory of everything and how fragments of this appear in the work of her contemporaries.

Can we map cognitive functions to neural pathways within the brain?

Denise tells us more about her research aims to attempt to link DNA with personality type.

How Denise is conducting her study and collecting data.

Learn more, keep up with Denise or volunteer to take part in her study at: https://www.personalitygenie.com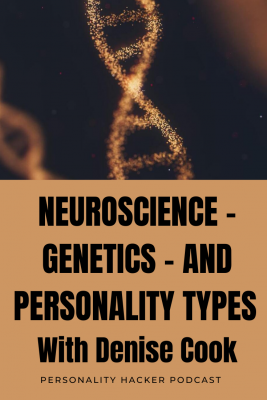 Click here to check out Dr. Denise Cook's work
To subscribe to the podcast, please use the links below:
Subscribe with iTunes
Non-iTunes Link
Soundcloud
Stitcher
Google Play
Spotify
Radio Public
PlayerFM
Listen Notes
If you like the podcast and want to help us out in return, please leave an honest rating and review on iTunes by clicking here. It will help the show and its ranking in iTunes immensely! We would be eternally grateful!
Want to learn more?
Discover Your Personal Genius
We want to hear from you. Leave your comments below…